JUBILEE FURNITURE IS OPEN
During Regular Business Hours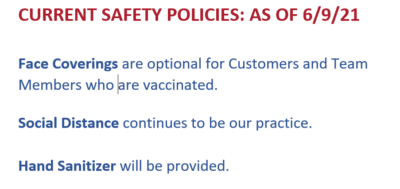 Click here to see our current Safety Policy Statement.
For quality, used furniture at an affordable price, visit Jubilee Furniture in Carol Stream! Come explore our 17,000 square feet showroom, featuring more than 500 items available at deep discounts. Shop new items weekly, including sofas, chairs, tables, dining sets, bedroom sets, mattresses in good condition, antiques, period furniture, artwork, lamps, collectibles and more. Check out what's currently for sale in store by visiting our virtual store.
Donations
Jubilee Furniture accepts donations of quality, gently-used furniture and home accessories. Drop-off donations are accepted whenever the store is open and local pick-up service is available. To donate your items, call the donation hotline, at 630-337-1467 or click on the link to complete the furniture donation form.
List of acceptable items
Sofas & chairs
Sleeper sofas
Tables & dining sets
Bedroom sets
Mattresses in excellent condition
Clothing armoires
Antique furniture and accessories
Vintage & period furniture
Fine art & decorative artwork
High-end electronics
Home furnishings
Quality rugs without stains
Lamps
Collectibles
Small solid wood desks
Quality desk chairs
Solid wood bookcases
Some file cabinets (antiques: excellent condition)
List of unacceptable items
Furniture with tears, stains, pet hair, odors
Appliances
Soiled or torn mattresses
Hospital beds; water beds
Cribs
Pressed wood desks & bookcases
Cabinets: kitchen, bath, vanities
Exercise equipment
Sewing machines
Tube TVs
Most older electronics
TV entertainment centers
Three piece wall units
Computer armoires
Computer desks
Bedroom wall units
Most pianos & organs
Pool tables
Metal office desks
Large office desks
"L" shape desks or reception desks
Office cubicles
File cabinets
Large office credenzas
Office conference tables
Office task tables
Have something unique that's not on either of our lists? We'd love to talk to you about it!
Donations may only be dropped off at the store during store hours. We reserve the right to turn down donations that are on the list of unacceptable items as disposal costs are substantial. Thank you.
Volunteers
Want to volunteer in a fun, fast-paced store with volunteer teams that love their work and care about our community? When you volunteer at Jubilee Furniture, you ensure that used furniture is recycled and reused instead of ending up in landfills. Plus, you're helping to support Outreach Community Ministries and its programs that serve teens, families and seniors in our community. Get started with our volunteer opportunities.
Frequently Asked Questions
Q: Where is the store located?
A: The store is located at 730 E. North Ave. on the south side of the street just west of the light at President Street and four blocks east of Schmale Road.
Q: Where do proceeds from the sales go?
A:  Proceeds from sales at Jubilee Furniture support the community-based youth and family resource centers sponsored by Outreach. At these centers Outreach restores hope and provides opportunities for teens, families, and older adults who are vulnerable.
Q: Where does the furniture come from?
A:  All merchandise is donated from generous individuals, retail stores, corporate partners, area hotels, offices and estates. Complete a donation form or call 630.337.1467 to schedule a convenient pick up of your quality used furniture.
Q: Do you have delivery service?
A:  Yes, we will happily deliver your furniture. Customers may ask us for details at time of purchase.
Q: Who works at the store?
A: Jubilee Furniture is staffed primarily by a great team of volunteers who love their work and care about their community. The Employment Training Center for young adults offers students paid internships.
Q: What type of payment is accepted?
A: Cash, Visa, MasterCard or Discover.